RAGBRAI 40 - 2012 ROUTE - July 22-28

Click on the above picture to go to www.RAGBRAI.org
Buses and trucks leave on Saturday, July 21, from the Union Station in Cedar Rapids, IA, at 10:00am. Please have gear at the Union Station by 9:00am, so it can be loaded prior to departure. If you need more information email the web master. Please don't be late;-)
SPRINT SPRING RIDE - June ?, 2012 - Illinois Quad Cities
The Spring and Fall Rides will be held at Illiniwek Park at Hampton, IL, along the Great River Bike Path. The Great River Bike Path stretches from Rock Island to Savanna on Illinois side of the Mississippi River.

Generally a few of us will be there Friday night and we'll burn some wood. Stories may be told behind your back around the fire, if you don't come. We'll do a ride on Saturday and Sunday on the Great River Bike Path along the Mississippi. The time of the ride is Sprint time, so we'll see when we get started (some time in the morning). In the evening, we'll try some of the Quad Cities finest food & spirits and burn some more wood. We do have some "bi-state" riding plans for hitting the microbreweries in Rock Island (IL) and Davenport (IA).

Our campground is the Illiniwek Park, which is just east of Hampton, IL, and west of Rapid City, IL, on highway 84. Illiniwek Park has very nice camping right next to the Mississippi River. It is just below a lock and dam, so there is a great view of the river and boat/barge traffic.

Directions:
Illiniwek Park is 2.5 miles west of I-80 on Illinois Highway 84. The campground is on the right (north) side of the road. On the top map, it is right about where the 84 is circled on the left side of the map. The lower map shows where it is in relation to the Quad Cities. If your are traveling on I-80, take exit 1 when you cross into Illinois.
Sponsored by Brooks & Dunn and the Cermaks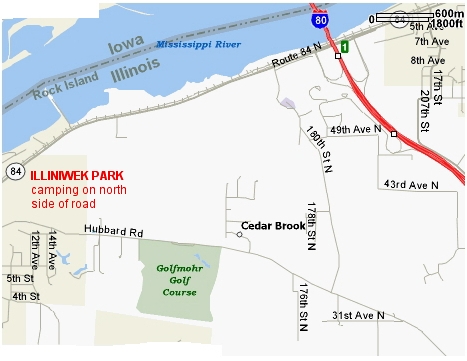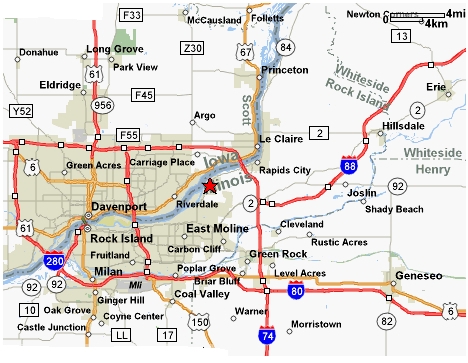 SPRINT FALL RIDE - Sep.-Oct., 2012 - Illinois Quad Cities
Same information as the Spring Ride just in the Fall...
Sponsored by Brooks & Dunn and the Cermaks